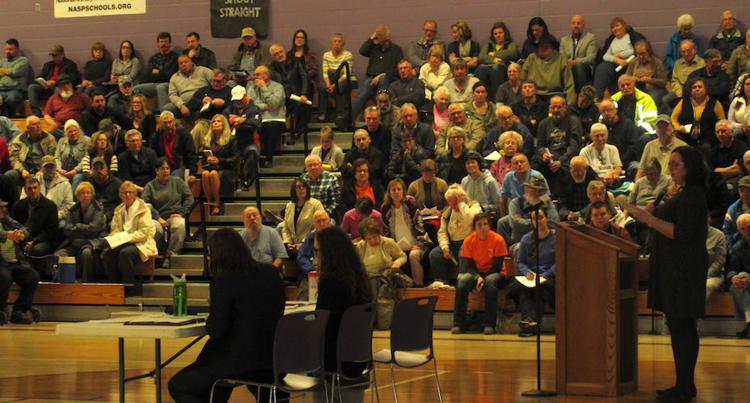 FAYETTE — Nearly 500 people attended an informational session by the Ohio Environmental Protection Agency (OEPA) regarding the Artesian of Pioneer well siting permit in Fayette on Tuesday.
"We have been reading and hearing from a lot of folks here in your community," said Heather Lauer, public involvement coordinator for Ohio EPA. "There are some things we need to set the record straight about. We will try to do that tonight."
Artesian of Pioneer currently has one well site application going through the OEPA. Artesian of Pioneer, which is owned by Ed Kidston, is proposing tapping into the Michindoh Aquifer to pump water and sell it to several suburban Toledo communities. The Michindoh Aquifer serves northwest Ohio, northeast Indiana and southern Michigan.
The Artesian application is currently at the well site review stage. A draft conditional approval for the physical well site alone was issued on Feb. 6, but approval of the overall well site application has not yet been made by the OEPA director.
"We are at the well site review stage. We have not made a decision yet," stressed Taylor Browning, environmental specialist for OEPA. "This is why we have a public comment session. … We are accepting comments prior to making our final decision on that well site. Well drilling will only move forward if the well site drilling is approved."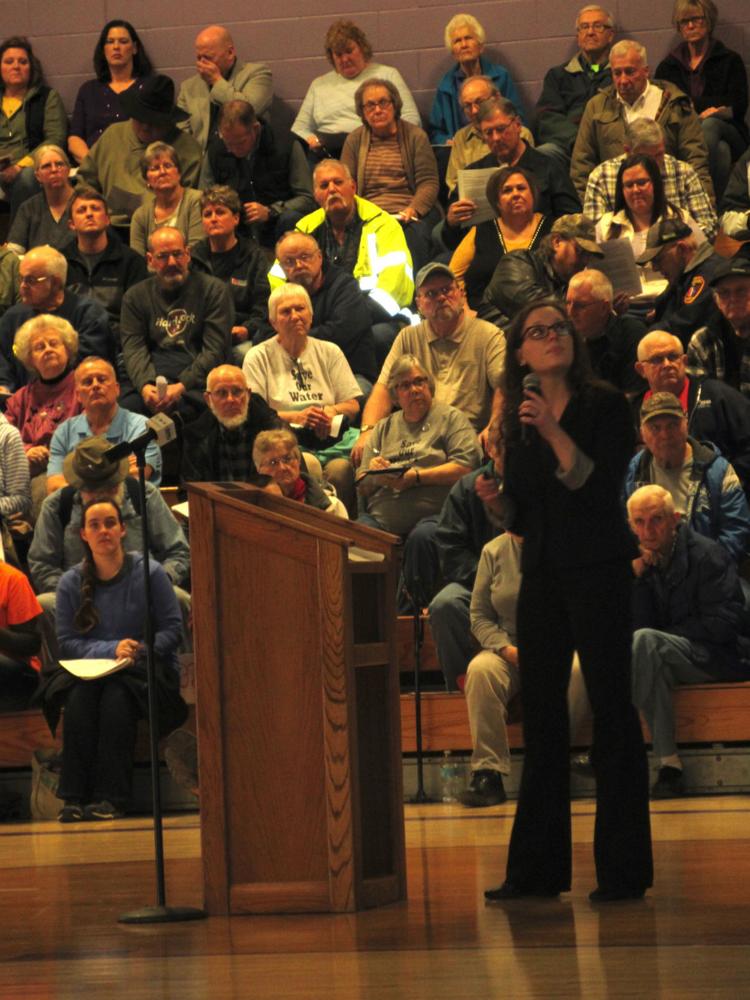 Browning said the well siting process begins with an application being submitted, there is then an application review, field assessment, well site review, decision and then drilling.
She said as part of the field assessment an on-site visit to the proposed location was held with various individuals including the well driller, Ohio Department of Natural Resources representatives, Ohio EPA representatives and other public water resource representatives. The evaluation includes measuring the required sanitary isolation radius and determination of potential sources of contamination.
"We're looking at sanitary isolation radius," she said. "We want to make sure there is nothing within that radius that can contaminate that well. It's a complete walk around of the property, looking for anything we may find of concern. Anything we find during field assessment that is a concern we discuss."
The Artesian of Pioneer well siting for well 1 is located northeast of Fayette at 24668 Fulton County Road S. A 300-foot isolation radius was examined around the proposed well site. It was found that the proposed well location preliminarily meets isolation radius requirements for well sites. There were conditions, however, that must be met in order for the well site to be approved for use by a public water system.
"Some of the findings since it was in a field was that fertilizer and pesticide applications probably happen in those surrounding fields," Browning said. Findings outside the isolation radius included old farm machinery, equipment and private well and septic tanks at residential properties.
The OEPA officials said that Artesian of Pioneer has met the primary requirements for the well 1 site.
"That refers to the physical location, not the use of the well," Browning said. After field assessment, a director's action is written either for or against the well site.
A director's decision on the Artesian site application will not be made until after the public comment period is finished. The public comment period ends on Friday. To submit a comment, send it to: Ohio EPA, Division of Drinking and Ground Waters, Attn: Craig Smith, P.O. Box 1049, Columbus, Ohio 43216.
If the well site is approved, the well drilling process begins.
"After the well is drilled, it must complete a pumping test to see how aquifer responds to pumping," Browning said. "We want to make sure there is enough water in the aquifer to support the demand of the new water system and there is enough recovery."
She said that water samples must be submitted to the Ohio EPA for contaminant analysis, and recommendations are made if treatment is required based on analytical results.
Browning said individuals have noted some wells already have been drilled. She said these were observation wells, not production wells for the project.
"They are just for observation purposes," she said. "One is in a shallow end of the aquifer and the other is at a depth so if the project moved forward, it (the wells) would see the effects of the pumping."
OEPA officials noted that the whole application process must happen for each well for a new public water system project.
Amy Klei, chief of drinking and ground waters for OEPA, said the single well siting process is just a small first step in the larger process to being a public water system. A water system general plan and water system detailed plan both have to be approved before a public water system can be created.
Both the general and detailed plan must be prepared by a professional engineer, is reviewed by OEPA and has several other components including more detailed information on items such as the proposed water source, treatment components, plant equipment and distribution. Each step also must be approved through a director's action, which includes an opportunity for public input, to move forward.
"These steps and decisions are appealable to the Environmental Review Appeals Commission," Klei said, also noting that for a water system general and detailed plan, a project must have a minimum of two wells.
"These two steps (the general and detailed plans) take a long time," she said. "If approved, a plan can start construction, where there is a post construction audit, initial sanitary survey and owners must apply for and receive a license to operate. ...We are on this first baby step (with the Artesian project)."
Klei noted that the Artesian project is unique as typically OEPA receives applications from existing public water systems or a village/county looking to start a new water system.
"In this case, we have a private entity," she said, adding what the OEPA has is just one application for a single well for the project. "The overall water system proposal is still unknown — even the overall scale and the communities they serve. While this is permitted by Ohio law, we are taking steps to carefully review this proposal. Because of the comments expressed, we are taking steps to obtain information including this meeting tonight. This is not a step we normally provide for well site applications."
While exact details of the project were not known, OEPA officials said they will be working closely with Ohio Department of Natural Resources officials on withdraw issues, as well as communicating with officials in Indiana and Michigan.