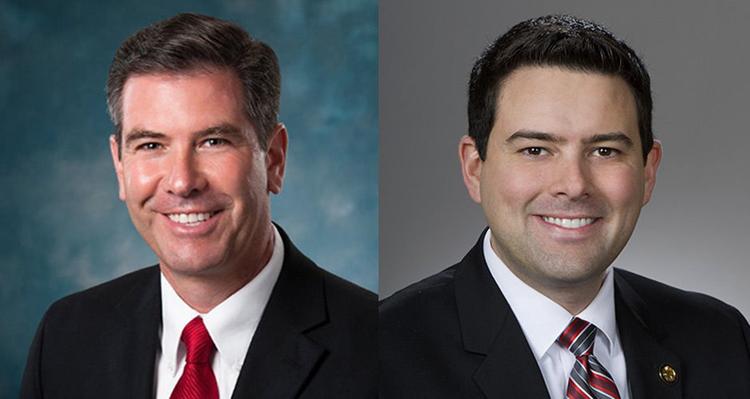 The area's representatives in the Ohio General Assembly have a variety of thoughts about Gov. Mike DeWine's proposal to raise the state gas tax by 18 cents a gallon.
The increase is part of the state's proposed transportation budget for fiscal years 2020-21, and would cover what the Ohio Department of Transportation (ODOT) said is a shortfall of approximately $1 billion. Legislation approving the two-year budget — introduced as House Bill 62 — must become law by March 31.
An 18-cent increase would represent a 64 percent rise in the state's gas tax which stands at 28 cents a gallon, and would be expected to generate about $1.2 billion in the first year. DeWine's proposal also seeks to tie the future rate to inflation.
While all gas taxes are used for highway projects, 60 percent are
for ODOT and 40 percent for local governments.
Ohio's gas tax was last raised in 2005, the third of three annual 2-cent increases.
Ohio 1st District Sen. Rob McColley of Napoleon, a Republican, said he won't support a gas tax increase unless it's offset by tax decreases in other areas — such as the state income and sales taxes. McColley is the chairman of the Senate's finance committee, which will hold hearings on the proposal.
"The administration and ODOT are going to have their work cut out for them as far as justifying an 18-cent increase in our gas tax," said McColley, who represents five Defiance-area counties (Defiance, Henry, Paulding, Putnam and Williams), as well as the southeast corner of Fulton County. "... I have not heard a compelling justification as to why we should raise taxes by 18 cents a gallon. In fairness, the director of transportation (Jack Marchbanks) will be coming to speak with our committee next week.
"I believe if we are going to raise the gas tax at all, it would need to be accompanied by a corresponding decrease in other taxes such as the income tax or sales tax to offset," continued McColley. "I think mainly we should not be raising taxes on Ohioans. The net tax should remain the same or be lessened. The economy is improving. If there is a way to offset any tax increase, that needs to be explored so Ohioans are not paying any more taxes than they are right now."
The 81st District's Republican representative — James Hoops of Napoleon, who represents Henry, Putnam and Williams counties, along with the southeast corner of Fulton County — concedes that something should be done about ODOT's revenue concerns. But he's not sure if DeWine's proposal is the answer.
"I feel we need to do something," he said. "Is it 18 cents? I'm not sure yet, but you also have to look at the expense side too. Are there ways to be more efficient?"
At the same time, Hoops sees a need to "make sure our roads and bridges, and the infrastructure stays ahead of the game because I think that's very important for the economy of Ohio."
The 82nd House District's representative — Republican Craig Riedel of Defiance — acknowledges ODOT's revenue concerns as well, but is cautious.
"I do support finding a way to fill in the shortfall," said Riedel, who represents Defiance, Paulding and Putnam counties, as well as the northwest corner of Auglaize County. "We have to have good infrastructure in our state roads and bridges, obviously for businesses to be able to function ... . I think the future prosperity is very dependent on an excellent infrastructure system in Ohio."
But Riedel added: "I won't approve any sort of any tax or user fee increase unless I am 100 percent certain we have a problem. ... They'll have to convince me first, but if they convince me, I'm not going to be afraid to solve the problem. If that means we have to increase the gas tax or impose some of sort of user fee, I'm not afraid to do that."
Hoops noted that Indiana (42.9 cents), Michigan (44.1 cents) and Pennsylvania (58.7 cents) — all have higher gas taxes than Ohio. Kentucky's is lower at 26 cents a gallon.
Pennsylvania has the highest state gas tax at 58.7 cents, followed by California (55.5 cents), Washington (49.4 cents), Hawaii (48.1 cents) and New York (45.6 cents).
As it stands, Ohio has the 29th highest state gas tax in the nation.
In addition to state gas taxes, motorists also pay a federal tax of 18.4 cents on each gallon of gas purchased. (The federal rate is 24.4 cents per gallon for diesel fuel.)