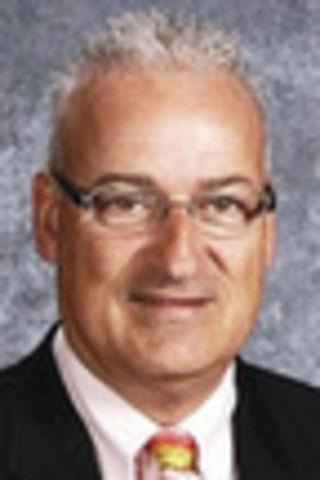 HICKSVILLE — Superintendent Keith Countryman spoke about the school building's new security acquisition during Monday's regular meeting of the Hicksville Exempted Village Board of Education.
Countryman spoke of the new mass casualty weapons detector — the first in a planned set of three — which was installed last week and which went into service shortly afterward. Although the detector looks like a metal detector seen at nightclubs or airports, the device does not go off when metal objects are detected — its duty is to identify weapons of mass destruction such as guns, pipe bombs and ammunition. Harmless objects such as computers or cellphones do not set it off.
The weapons detector was brought to the school by area developer Justin Kuhn and installed at the high school entrance. Two more such devices are planned for installation at a later date in front of the elementary office and the special events entrance.
Once the detector locates weaponry, the images of those who brought them onto school property are relayed to proper authorities, who then respond accordingly.
According to Kuhn, those who installed the detector have said it was the most advanced detection system ever placed in a school building.
Countryman spoke of such things as the mass casualty weapons detector, the new school entrance buzzer system and the resolution allowing trained school personnel to carry guns on school property as deterrents. He added that the district recently received $40,000 from the Ohio Bureau of Workers Compensation toward the purchase of the other two planned detectors. The total cost of the two detectors comes to around $60,000, but with the receiving of other grants from other sources, the district has to raise $5,000 in order to purchase and install them.
Countryman said he would have 90 days to have the two new detectors installed once the money has been received.
In other business, the board:
• passed a resolution establishing a capital projects fund and transferring $3,000,000 to it from the general fund for construction, improvement or repair of buildings and grounds.
• praised the boys basketball team, which recently received its first district win since 1941. The team meets tonight to play Crestview at Bowling Green State University.
• noted a two-hour delay scheduled for Wednesday.
• heard kindergarten registration will be Thursday and Friday.
• congratulated Rylen Bassett and Shalee Miller, who represented Hicksville at the National Shake Competition in Atlanta on Feb. 22-24.
• approved negotiations with the Hicksville Education Association for July 1, 2019-June 30, 2022.
• praised science fair adviser Kathy Laney, faculty and volunteers, along with 14 local students who received superior ratings in the Feb. 11 science fair.
• approved the 2019-20 school calendar. The first day of school will be Aug. 26, with the end of the fourth quarter on May 28. Christmas vacation will be Dec. 23-Jan. 1.
• briefly discussed the upcoming school levy vote. A page labeled "Hicksville School Levy Committee" is available on Facebook, featuring a frequently asked questions section. Those with other questions may contact Countryman.
• plans to send out a questionnaire next month regarding the possibility of a new road being installed at school should the levy pass in an effort to lessen traffic congestion at the beginning and ending of the school day.
• congratulated archers taking place in the state tournament.
• noted a career day for grades 6-12 hosted Feb. 26 by Defiance County Economic Development.
• learned the fifth-graders visited Four County Career Center on Feb. 26 to learn about education opportunities.
• heard a presentation from teacher Elizabeth Perna regarding students' possible eligibility for special education services. The Hicksville district is responsible for conducting about 50-60 special education re-evaluations annually. A variety of services may be provided to students, including speech and language services, therapy, behavioral transitions, work study and many others.
• heard spring break is March 25-29.
• noted that all juniors must take the ACT test as per Ohio Department of Education wishes.
• approved a trip to New York City on March 19-23 for the senior class.
• noted this weekend's upcoming school production of "Beauty and the Beast." Should the Aces win the game tonight, another is likely for Friday, resulting in the Friday play performance being moved to either a Saturday matinee or a Sunday evening.
• will form a committee to discuss the possibility of an athletic hall of fame at the school and examine the pros and cons of such an idea.
• has heard complaints from parents about recesses where children are made to stay inside due to the cold weather. Wind chills of 12 degrees or lower are the determining factor in whether to hold outdoor recesses. Should the levy pass, a suggestion was made about room in a planned new building being designated for indoor recess periods.