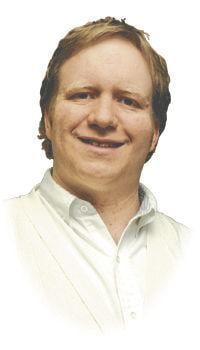 There is one thing that everyone knows about me: I am, simply put, a Trekkie (defined in Webster's as "a fan of the U.S. television program "Star Trek"). I am one of those Trek nerds who can instantly recall who wrote this episode or what occurred on that planet, and one of the many things I know about "Star Trek" is that William Shatner just might live to bury us all.
My path crossed with the man who embodies the show's lead character, Capt. James Tiberius Kirk, last Thursday when word got out about his appearing at the Stranahan Theatre in Toledo, where he would speak about the series following a showing of the feature film "Star Trek II: The Wrath of Khan," which is widely regarded as the favorite big-screen Trek adventure by most fans (though unfortunately, not me). I had heard about the upcoming appearance for weeks but figured I'd be unable to go until a friend notified me of an extra ticket.
On Thursday, my friend and I arrived at the theater to join hundreds of other Trekkies, some dressed in Starfleet uniforms, for the event, which drew a near-capacity crowd. As the lights dimmed and the movie began, it was easy to be swept up into the spirit of the thing all over again, with people cheering and applauding (and in one or two cases, crying... if you've seen the movie, you know where) as if the film was brand new.
Although we were sitting in front of center stage, the seats were in the balcony, which resulted in Shatner being about the size of my thumb when he strolled out in front of the crowd. But regardless of his size, no one could doubt the identity of the man who kept us entertained for the next hour.
Shatner, who turns 88 on March 22, shows the effects of time... but only to a certain extent. He sat on the otherwise empty stage with an interviewer who looked to be half his age, if that... but while his interviewer seemed content to keep his seat warm, Shatner was unwilling or unable to sit still. He paced the stage off and on, moving like a man half his age, telling anecdotes about "Star Trek" and his other endeavors (and receiving repeated applause for the occasional references to "Boston Legal," where he played bombastic misogynist Denny Crane).
If Shatner shares anything in common with James Kirk besides his physical appearance, it's that both are men of PASSION (lower case letters would not sufficiently demonstrate how much). His voice, completely unchanged after 50 years, remained full of unbridled love of life; whether talking about the dogs and horses that have meant so much to him through the years, or about pranking DeForest Kelley at the on-set breakfast table, he SPOKE! with the CUSTOMARY! DRAMATIC! PAUSES! so FAMILIAR! to the FANS, often yelling at the top of his voice to add emphasis to the tales he told. I have heard that Shatner dislikes speaking in public, but no one who saw him that night would have had an inkling.
The biggest difference between the Canadian actor and the oh-so-serious starship commander is the uninhibited, slightly raucous sense of humor he displayed throughout the talk. While some serious moments surfaced during the appearance, for the most part laughter was the order of the day, particularly during the question-and-answer period. ("Boxers or briefs?" one woman asked. Shatner's response: "Depends," which could be taken one way or another.)
Shatner closed with a story which perfectly demonstrates how many people relate to him as a result of his most famous role. One day during the show's second season, Shatner put his Kirk outfit on at home and drove at 5 a.m. to a location shooting at 100 miles an hour, only to be pulled over by a police officer. Certain he was in trouble, Shatner pulled over and got out of the car, only to be startled when the state patrolman gave him the splayed-fingered Vulcan hand salute and Mr. Spock's customary "Live Long and Prosper."
Clearly, William Shatner has done just that.
(Peter Greer is a staff writer for The Crescent-News.)